Warning: You'll have to pardon a number of things in this project post as I am pretty sure I'm working beyond my skill level at this point. Blush
I only do rough drawings for my own benefit so they are just that, rough.
I actually saw a sculpture of this design at the church where my son has his Boyscout meetings. As my wife is involved actively with her church and she like this kind of stuff, I decided to make some thing similar for her.
Here is the drawing I made up showing the front (left) and side (right) views of the sculpture. I didn't include the base in the drawings as I haven't quite decided what I want to do there.
I started with a 3" x 3" x 6" piece of 6061 aluminum as that's the only thing I had large enough on-hand. Big Grin After squaring it up I cut out the main cross profile then "thinned out" the cross to match the side (fish) profile width.
I intentionally left a couple of extra inches on the base to give me something to clamp/fixture to further on down the line. I will be trimming most of that off when I get closer to completion.
After giving it quite a bit of thought I decided to cut the slots in the cross before cutting the fish profile. I just figured it would be easier to work with while it was still "square".
I cut it straight away with a 1/4" endmill as I'm not building this for NASA and worried about tight tolerances (else I would have like to go with a 3/16" then expand it to spec.). It only has to look good in the end. I used as "standard" size endmill and had to slot in from one side then flip the piece and go in from the other. It all worked fairly well but I did discover that my mill badly needs to be re-trammed which resulted in the slots not meeting up real well. Bash I repeat, "It only has to look good in the end." Big Grin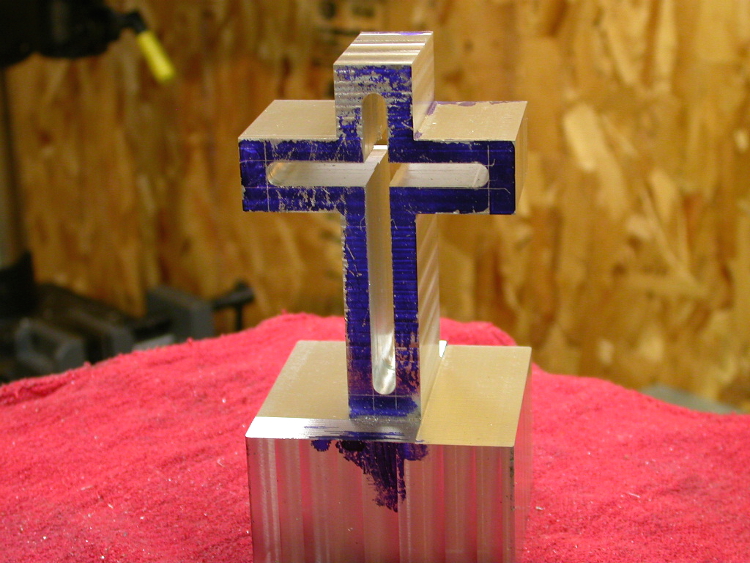 This is as far as I got today. Tomorrow I'm going to start by re-tramming the mill Blush and start to figure out how I'm going to get it fixtured on the rotary table. If worse comes to worse I'll just drill a hole in the base, run a T-bolt through it, and clamp the one end directly to the RT. I don't expect it to be too much of a problem. One place that will be a little more work will be the "tail" and getting those sharp narrow cuts to look right.
I'll post more when I have more.
Be gentle now,

-Ron